Mumbai's Dharavi slum is home to anywhere between 300,000 and 1 million people. Bhanuben was born and brought up here and knows the place like the back of her hand, and the challenges of surviving in this "teeming slum of 1 million souls".
"There is a high incidence of gender violence here, but I have been lucky," says Bhanuben, a mother of two sons, adding: "My husband is a good man."
Data from the National Crime Records Bureau shows that 43.6% of all crimes against women are by husbands and relatives
Violence against women is pervasive in India and much of it – domestic violence, dowry deaths, acid attacks, honour killings, rape, abduction and cruelty – is at the hands of family members. Data from the
National Crime Records Bureau
(NCRB) shows that an Indian woman is most unsafe in her marital home: 43.6% of all crimes against women are by husbands and relatives.
In multi-ethnic Dharavi, the problem is compounded by the fact that most women are poor and uneducated. The relentless pressure to survive, lack of space and unhygienic living conditions lead to malnutrition, deprivation and disease – and often abuse of vulnerable women and children.
SNEHA started working with women in Dharavi in 2001 and has since supported 300,000 women and mobilised 130 women's groups to educate and support survivors of violence.
"While the number of cases of domestic violence has been increasing every year in the slum, we felt there was a gap in reporting of such incidents thanks to lack of a support structure and societal norms that force women to keep quiet," says Nayreen Daruwalla, director of SNEHA's prevention of violence against women and children programme.
To improve reporting of violence, SNEHA launched the Little Sister Project in 2014. Funded by the UN development programme, the project trained 160 local women to identify and report incidents of gender violence using Android smartphones that are loaded with an open data kit (ODK) form and an app called EyeWatch.
"Earlier we would write the case details in a register... it was cumbersome. But now with ODK, we do it electronically," explains Bhanuben. The information is then stored in a central database maintained by SNEHA. The identity of survivors is kept private.
The EyeWatch app, which has been developed by a firm called Indianeye Security, is a mobile-based platform that allows the community workers, known locally as sanginis, to take audio and visual clips if they witness an incident. Once the app is activated and an alert has been raised, a call goes through to an SNEHA employee who can offer assistance.
"This technology helps us crowdsource cases of violence, track cases of repeat violence and understand more about the prevalence of violence in Dharavi," says Daruwalla. "We believe reporting violence is the first step in preventing violence."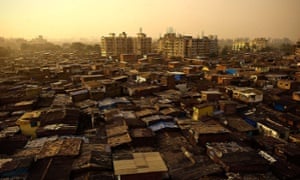 Mumbai's Dharavi is Asia's largest slum and home to up to 1 million people. Photograph: Bethany Clarke/Getty Images